STATISTICS ON MOTORCYCLE ACCIDENTS AND DEATHS
According to the National Highway Traffic Safety Administration (NHTSA), motorcyclists account for approximately 14 percent of all traffic-related deaths, even though they make up only 3 percent of all registered vehicles in the U.S.
The NHTSA notes that, year after year, "motorcyclists continue to be overrepresented in traffic-related fatalities." The NHTSA estimate that motorcyclists are roughly 28 times more likely to be killed in a traffic accident than people in passenger vehicles, based on the number of miles traveled.
According to the NHTSA's most recent Motorcycle Traffic Safety Facts report, more than 5,000 motorcyclists nationwide were killed in accidents in the most recent year for which data is available. The NHTSA also notes that more than 4,500 motorcyclists have been killed and tens of thousands more have been injured in U.S. accidents every year since 2010. The report details a number of other alarming statistics and findings for the most recent year for which data was collected, including:
5,172 motorcyclists were killed, which equates to 59.34 fatalities per 100,000 registered vehicles in the U.S.
89,000 motorcyclists were injured, equating to 1,018 injuries per every 100,000 registered vehicles in the U.S.
The fatality rate for motorcyclists was 6 times higher than that for passenger car occupants.
58 percent of motorcyclist fatalities were a result of crashes that occurred during daylight hours.
Only 3 percent of motorcycle fatalities occurred in rainy or foggy conditions, while the other 97 percent happened in cloudy or clear conditions.
91 percent of motorcycle fatalities happened on non-interstate roads.
60 percent of motorcycle fatalities occurred in urban areas.
HOW OFTEN ARE THERE MOTORCYCLE ACCIDENTS IN ILLINOIS?
The Illinois Department of Transportation (IDOT) publishes motorcycle statistics in Illinois on a yearly basis to inform the public and enhance the state's ability to respond to safety concerns. In its most recent report, IDOT released a number of concerning Illinois motorcycle statistics that specifically address the prevalence of these collisions in the state, including:
There were 2,973 motorcycle accidents throughout Illinois for the most recent year for which data was available.
Of these, 2,266 motorcyclists were injured and 119 were killed.
Motorcyclist fatalities accounted for 11.5 percent of all Illinois traffic-related fatalities for the year.
While motorcycles accounted for less than 1 percent of total statewide crashes for the year, they were involved in 3.1 percent of all Illinois motor vehicle injury crashes and 12.1 percent of all fatal crashes.
In fatal Illinois motor vehicle crashes involving alcohol, motorcyclists accounted for 10.2 percent of all fatalities.
47.4% percent of all motorcyclist injury crashes and 47.9 percent of all fatal motorcyclist crashes in Illinois occurred in rural areas such as state routes, county roads, and local streets.
MOTORCYCLE SAFETY GEAR STATISTICS
Motorcyclists do not have the same protections as occupants of passenger cars and trucks, which is why they are significantly more likely to suffer an injury or a fatality in an accident.
Along with Iowa and New Hampshire, Illinois is one of just three states in the U.S. with no universal helmet law. According to the NHTSA, helmets are one of the most important and effective pieces of safety equipment a motorcyclist can use. Several startling statistics clearly illustrate this fact:
Helmets saved the lives of an estimated 1,872 motorcyclists in a recent year.
If all motorcyclists had worn helmets in the same year, an estimated 749 additional motorcyclists could have been saved from crash fatalities.
The NHTSA estimates that helmets are approximately 37 percent effective in protecting motorcycle riders from fatal injuries. It estimates that they are approximately 41 percent effective in preventing fatalities among motorcycle passengers.
In states like Illinois with no universal helmet law, 57 percent of motorcyclists killed in traffic collisions recently were not wearing a helmet, compared to just 8 percent in states that have enacted universal helmet laws.
In Illinois alone, 69 percent of all fatal motorcycle accidents in a recent year involved motorcycle riders not wearing helmets.
GET THE RIGHT TYPE OF INSURANCE
These motorcycle crash statistics in Illinois are not meant to alarm you. Instead, our goal is to educate you on the importance of having the right kind of coverage for your motorcycle in the event of an accident.  
     FULL COVERAGE – For years, riders thought they were completely covered because their insurance agent told them they have "full coverage" on their bike. That is not true. Full coverage only covers you in the event of an accident where YOU hit someone, or they hit you. It will hopefully enable you to pay off the loan on the bike or get it repaired. IT WILL NOT COVER ANY OF YOUR medical bills, time off from work, physical therapy, rent, mortgage, food, utilities, car payments, etc.  The list goes on and on.  Who will take care of your loved ones while you are in recovery?  
    LIABILITY ONLY – Many riders carry liability only to enable them to get their plates on their vehicle and protect them in the event they were to hit someone.  This is not enough!
State minimum car insurance requirements in Illinois
Illinois minimum car insurance requirements are 25/50/20. These numbers talk about the amount of liability coverage you have to carry in case you cause an accident. The state also requires you to carry uninsured or underinsured motorist coverage.
When you add this coverage to your policy, let's break down exactly what's covered.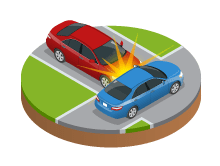 Bodily injury liability: 25/50
$25,000 for injuries to one person
$50,000 for injuries to multiple people per accident
This coverage kicks in for medical bills or legal expenses if you cause injuries to other drivers, passengers or pedestrians in an accident.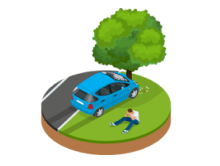 Property damage liability: 20
$20,000 to pay for car or property damage that you cause
Property damage liability covers damage that you cause to another person's car or personal property like a phone, car seat or property fencing.
You'll see a similar amount of coverage in other states, although many require less for property damage.
Uninsured/underinsured motorist bodily injury liability: 25/50
$25,000 for injuries to one person, either you or your passenger
$50,000 for injuries to multiple people by an uninsured driver
Uninsured or underinsured motorist coverage covers you if you're involved in an accident with a driver who can't pay for your damage.
Illinois requires this coverage, but it's included automatically when you buy bodily injury liability coverage.
Motorcycle Safety Lawyers® would like the opportunity to provide you with a FREE Insurance Policy Review.  We are NOT an insurance company, nor do we sell insurance.  This FREE service is 100% about ensuring you have the right amount of coverage to provide for you and your loved ones in the event of an accident. 
We encourage you to get your FREE insurance policy review now before you need it.  It's easy to do, email a copy of your insurance policy declaration page to David@MotorcycleSafetyLawyers.com or call David at 224-392-1600 if you have any questions.  David will be happy to review your policy and respond with recommendations for changes to request from your agent.  For additional information, visit https://motorcyclesafetylawyers.com/free-insurance-policy-review/